Hey Curly Hair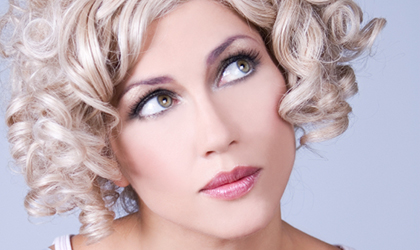 Short hair can seem difficult to curl since it may seem as if the hair would not fit around a curling iron. Curling short hair can allow you to change up your style instead of having straight hair all of the time. Curl short hair by using some simple hair tools to create curls.
Section your hair in small sections to keep it from getting in your way while curling other sections of your hair. Use hairpins or small scrunchies to keep the other hair in place.
Heat up the curling iron for 10 minutes to get it hot enough for you when you start curling your hair. Find a small curling iron to curl your hair with to allow you to create tighter and better curls.
Start from the front and take 1/2 to 1 inch of hair and place the curling iron in the middle of the piece of hair. Go down the hair to the ends and wrap the hair around the barrel of the curling iron all the way to the roots. Hold it into place for 20 to 30 seconds. Loosen the barrel around the curl gently and slide it away. Keep the curl intact by using hairpins or duck clips.
Work the curling iron through your entire head. Spray your curls lightly with a holding spray. Take the hairpins or duck clips out gently to avoid messing up the curl. Gently finger comb the curls into the desired style that you want. Pin the curls up or let them hang down. Use more styling spray if you need to.